How to upload a custom eCard & Printed Box Card
Every Sugarwish is delivered with an eCard to be displayed electronically and each package contains a matching printed box card.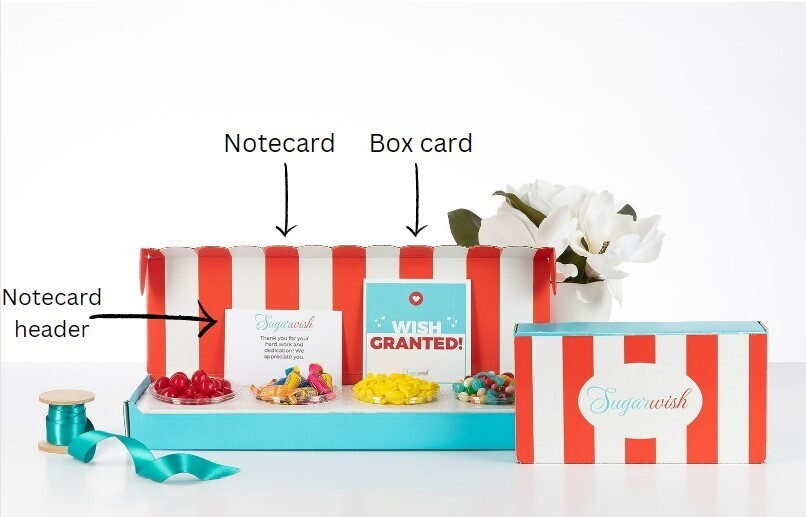 The video below will walk you through the options and demonstrate the process of creating your own custom eCard and Box Card combination:
Related Articles

Branding Options

We offer numerous opportunities to add your brand to your Sugarwish gifts. View the video below to see an overview of the options and how to order: Interested in a Corporate Partnership with Sugarwish? Click here!

Can I upload my list all at once?

Sure! - Here's how: Step 1: Select your gift size, quantity and eCard on Sugarwish.com Step 2: During the "Add Recipients" step, choose how you want to enter your recipient information We'll give you the options to either Enter manually, Paste from a ...

What are Pre-Picks?

Need to skip the eCard? Pre-Pick orders are Sugarwishes that you send to your sweet recipients, but YOU get to choose what arrives at their door. With a Sugarwish Corporate Account, you can now send Pre-Picks from your Happiness Dashboard. This means ...

Candles

Candles We have four different candle manufacturers providing different candle options to luxuriate in and relax with. They are all non-toxic, made with natural soy or 100% soy wax and are thoughtfully produced to enhance our world, not harm it in ...

Can I send a Sugarwish via SMS/Text Message?

Sugarwish eCards can now be sent instantly via SMS text message, just as easily as sending via email! To send a Sugarwish via SMS, after choosing the gift you'd like to send, select the "Email or Text" delivery option. From there, you'll be prompted ...