How to upload a custom eCard & Printed Box Card
Every Sugarwish is delivered with an eCard to be displayed electronically and each package contains a matching printed box card.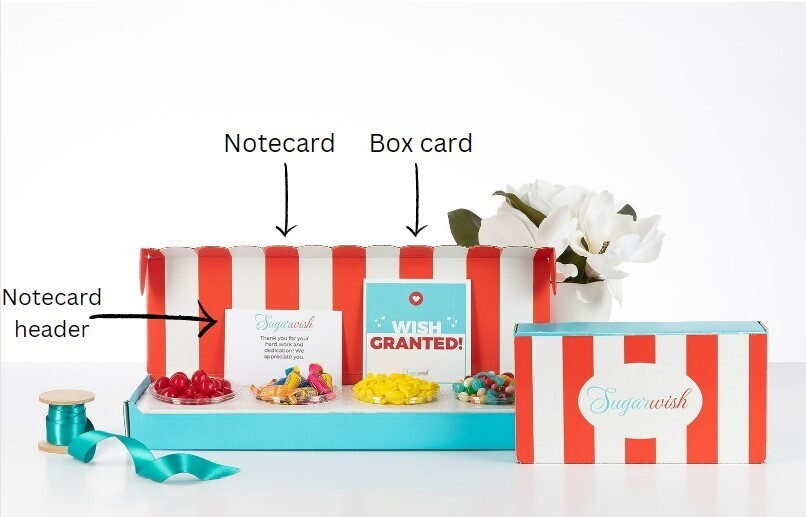 The video below will walk you through the options and demonstrate the process of creating your own custom eCard and Box Card combination.
Related Articles

Can I upload my list all at once?

Sure! - Here's how: ​ Step 1: Select your gift size and eCard on Sugarwish.com and click "Upload a recipient list" Step 2: Open the Google Sheets or Excel template to help format your data Step 3: Add your data to the template Step 4: Paste the ...

Can I send anonymously?

You get to decide what name your receiver will see! You can enter your name, keep it anonymous, or even put in something like "Your BFF". After you select the eCard you want to send and the date for delivery, just type what name you want them to ...

What if I don't have their email address? Can I still send them a Sugarwish?

Yes, you can-dy! No matter how you like to interact, we have a gift that will work for you! When you send an eCard, you can choose the delivery method. That way you can send via Email, Messaging, or Print. If you choose the Messaging option, we'll ...

What are your payment options?

You can pay with cards issued by any major credit card company, Google Pay, Apple Pay, or with PayPal.

Where can I ship a Sugarwish gift?

Where can I ship a Sugarwish gift? You can send Sugarwishes all over the world!* Our pricing includes shipping to all US states and territories (such as Puerto Rico, Guam, etc.), as well as to US Military Bases. *Due to international shipping ...