Can I upload my own image?
Yes, you can-dy! Your uploaded eCard will be displayed to your recipient in the Sugarwish gift email. When you send via Messaging, the eCard will be the first thing they see when they click the link. You will be able to add a personalized gift message for each of your recipients after you upload your image.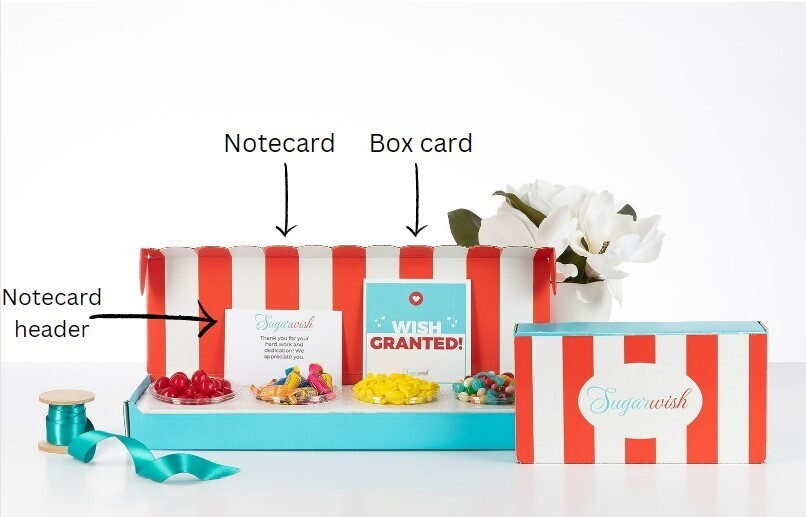 If you have a Corporate Account with us, you can also add your logo to each gift's Notecard header for no additional charge. While logged in to your account, click Upload your Logo to get started.
The video below will walk you through the options and demonstrate the process of creating your own custom eCard and Box Card combination from your account's Happiness Dashboard:
Related Articles

Custom Branding Options

We offer numerous opportunities to add your brand to your Sugarwish gifts. View the video below to see an overview of the options and how to order:

Can I make changes to my recipient's eCard?

Need to tweak your recipient's eCard? No problem! We're here to assist with various changes to ensure your gift is just right. You can modify names, contact information, send dates, and gift messages.* For Account Holders: If you have an account with ...

Can I upload my list all at once?

Sure! - Here's how: Step 1. Select your gift size, quantity and eCard on Sugarwish.com Step 2. During the "Add Recipients" step, choose how you want to enter your recipient information. We'll give you the options to either Enter manually, Paste from ...

Make Your Recipient's Selections with Pre-Picks

Looking for a more personalized gifting experience? Skip the eCard and create a memorable surprise with Pre-Picks! With your Sugarwish Corporate Account, you can now handpick the delightful treats that will be delivered straight to your recipient's ...

Can I edit the eCard's send date?

Need to make changes to your eCard's send date? No worries – it's easy and hassle-free! For Account Holders: If you have an account with us, follow these simple steps from your Happiness Dashboard to edit the eCard's send date: Visit "My Orders" to ...